What is wedding live streaming?
Hello, and welcome. It's 2021 and Covid-19 is still around. Maybe you are reading this in 2030 and are like "ha, we learned about that in history!" (as you put on your hazmat suit before you venture to the HyperShop for more protein tabs).
But in 2020 and 2021, especially in the UK, we've had to limit the number of people who can attend a wedding, back in the Summer of 2020 it was 30 people maximum, in December 2020, it was 15. Now at the time of writing, it's just 6, due to us being in a national lockdown. Naturally, many guests, friends and family members will miss out on attending your ceremony and viewing your speeches. This can suck, big time.
So along came live streaming to the rescue! Of course, this isn't a new thing, but in 2020 this technology use has spiked, and it's great. Basically, the concept for a wedding is: Set up a video camera, connect it to the internet, people watch it online. Simple right? I mean, like, YouTubers do this all the time? Well… kind of, but not really. And most professional YouTubers have a lot of equipment to make this stuff work. If you want to do it well, here are some tips and how we stream weddings.
Equipment and How-to
Now technically, you could live stream with just your iPhone, you could use FaceTime and broadcast to a few friends, or steam to Facebook Live, but let's be honest, you know the quality won't be great really isn't any proper zoom or microphone. Audio is SUPER important for the live stream. Most of us won't care about the video's quality, but the audio is key, we want to hear the bride and groom saying their vows, the chuckles in the crowd and the officiant speaking.
This is what we use:
4G Wireless Router
We use a TP-Link Archer MR400 AC1200 Dual Band 4G Mobile Wi-Fi Router. Why do we bring our own 4G router? There a few reasons.
1. Don't assume there will be wifi at the venue.
2. The wifi at the venue is often terrible. You need a good connection to the stream!
3. If the wifi at the venue is okay, it might not be once 15-30 guests connect to it! Can't be havin' that laggin'!
We normally head over and test the venue connection if they have one, and our cellular connection in advance of our arrival. This is really important and not something you want to discover on the day. We want to have our own dedicated internet connection for the stream that we can control, and using a 4G router does this, you control who goes on it (just your devices!) and it's placement, especially if there are thick walls… more on that later.
Pop in a 4G sim card with data and you're good to go!
External antenna
Right, you've got a connection – great! But what if you're in a building with thick walls? We've been to barn weddings, and the stone walls are usually not great for 4G signal. When you go to do a speed check at the venue, make sure you check both indoor and outdoor cell reception. If it's bad inside, you'll need to move the antennas on the box outside the building to get a good connection.
Most of the time, the antennas are included with the router unscrew to attach larger ones or a different connection. We use an external antenna on a 5-meter cable, run the cables out a door or window and back to the router: boom, great signal.
Here's a fun thing to note, you can get a few different types of external antennas – an omnidirectional one, such as the one above. Or a directional one. If you know where the cell tower is, you can get a stronger connection with a directional antenna, point it towards where the tower is. Still, if you don't, an omnidirectional one will broadcast in all directions, meaning it is likely the easier option.
A camera
Ah, yes, that makes sense. It's best to use a quality camera to get the best video. One with a zoom lens is useful, as often you'll be positioned at the back of the venue, and you'll want a closer shot of the couple. We use a Sony a6600 for our streaming and an 18-105mm lens, giving us lots of room to position the shot. You'll need to make sure that you can power the camera as it's in use, you do not want it to run out of juice halfway through! The other thing you'll need need to check is that the device has an HDMI output, either full size, mini or micro, and make sure you have the adapter to full size if it's one of the latter. This will let you output to a video capture card to send your video to your computer.
A laptop
I'm using a MacBook Pro, but really, most modern devices will good for streaming. One with a dedicated graphics chip would be good, but if you look at something with at least a 8th generation i5 or above processor, and 8GB RAM, you'll be golden.

A video capture card
There are a few available, but we use the Elgato Camlink 4K. A really compact device with a USB output and an HDMI input to plug the camera end. You'll get higher quality than putting your camera into webcam mode (most cameras don't even have this mode anymore) and be able to use all the normal functions.
If you have a MacBook or a device with USB-C connections, make sure you check that your adapter is compatible with accepting display inputs… basically, test this in advance! Most normal £5 or less USB-A to USB-C adapter don't work. I'm using the official Apple USB-C Multiport adapter and this works well.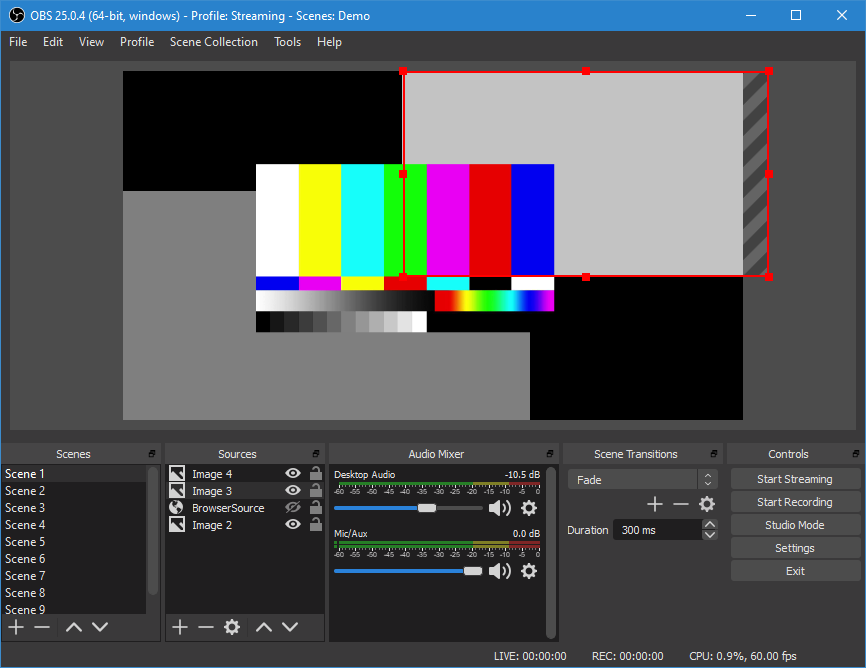 Streaming Software 
Although you can upload directly to YouTube Live (the platform we use). We pop our stream through OBS studio, a free broadcasting software that links up directly with YouTube Live, lets you monitor other inputs if you want to switch between multiple cameras and the audio too. Make sure you create a YouTube account 24 hours in advance (it needs to be at least that old before you can stream) and then generate a Streaming Key. Pop this into OBS Studio and you'll be linked up ready to go!
To get your Stream Key, navigate to the YouTube Live Dashboard. Towards the bottom of the page under the Encoder Setup section, you'll find your Stream Key. Make sure never to share your stream key with anyone or they will be able to stream to your YouTube channel.
Audio
Really important, as I mentioned. You need to be able to hear everyone, especially if you are far away, so wireless microphones are normally needed. I've been using the RØDE WirelessGo. A discreet microphone, you can plug the receiver end into your camera and pop the other end on the bride or groom. Or better yet, plug a directional microphone into it and pick up the couple and officiant talking.
Make sure you get someone to stand in the area and test the sound, sometimes if you use an external mic the input volume will be too high, and you'll need to adjust the input gain in OBS so it is not too loud and causing peaking. We use a RØDE VideoMic NTG which is a rechargeable shotgun mic with gain control built in, to get everything a bit more finely tuned. Really great microphone! I pop this on a little tripod near the front, facing the couple. The audio is sent down the WirelessGo into the reciever, which is plugged into the camera. OBS picks up the camera and audio input and you can adjust in there.
Other stuff
That's the main equipment, you'll also want:
A tripod to keep your shot steady and get the right angle.
Spare batteries for your camera and it's mains plug to keep it powered
Extension leads for power when away from a socket
Duct tape to secure wires and cables
Stream!
Set up your equipment in advance and TEST IT! Don't let your clients do this for you, schedule some time to hook up the camera and computer and do a few practice streams. Familiarise yourself with OBS Studio and YouTube Live. Make sure you have a backup plan if it all goes wrong too…
We send a link to our couples to share in advance of the day, so the stream is scheduled. Attendees can talk on the group chat beforehand, which is lovely. We set up a personalised thumbnail, make sure we have spare cameras as a backup and test everything in advance.
If you'd like us to live stream your wedding, ceremony or toasts and speeches, get in touch. We can even set up screens to have guests who cannot be there in person and attend a video call. They can also record a message to playback to everyone. We'd love to help you, so pop us a message below 🙂